HIFU vs Botox – Which One Is Better? (Results, Benefits & Side Effects)
Updated

April 17, 2022

by Brilliant Skin Australia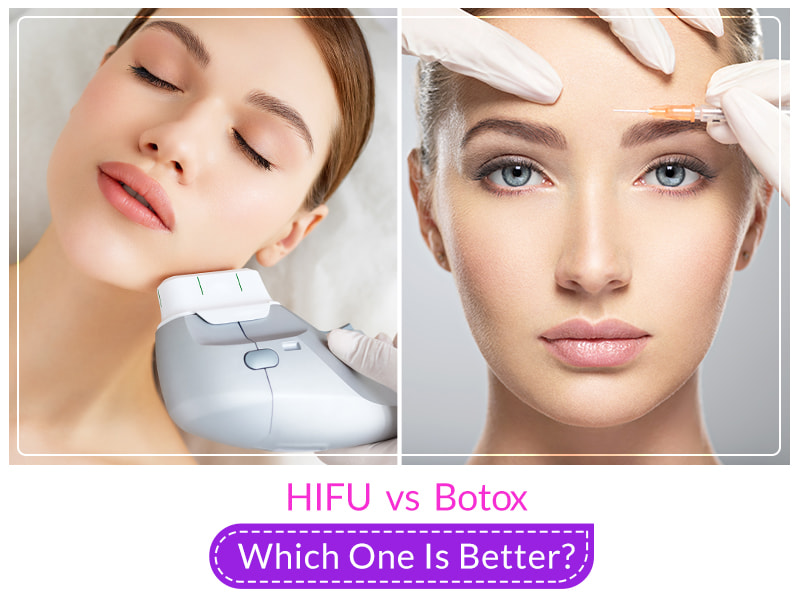 The advancement of science has generated a variety of skincare therapy methods, including Botox and HIFU. Both treatments have been developed to rejuvenate the skin and, one way or another make it more beautiful.
As a skin care clinic, we are constantly faced with the question of, which one is better, Botox or HIFU? which of all these methods to choose and which beauty services are more suitable for each individual? Here in this article, we intend to address these questions.
HIFU Therapy
HIFU treatment is a non-invasive and painless rejuvenation therapy that is mainly recommended for people who do not favor cosmetic surgery and whose pain threshold is low. HIFU therapy works like an ultrasound machine.
It affects the deep layers of skin and stimulates them to cause collagen production. This increases the elasticity of skin's surface and thus adds to its strength. The results of HIFU therapy are somewhat visible immediately after it is done, but the complete and final results can be experienced after about four to five months.
HIFU therapy has relatively stable results. HIFU treatment can be done from the age of 25 to 70, but the number of applications will vary according to age and the extent of skin damage.
HIFU treatment used to be used as a method to kill cancer cells, but over time, specialists realized its skin rejuvenating properties, and it is now used for skin lifts and rejuvenation. HIFU rejuvenation method is relatively young; still, in this short period of time, it has been able to attract many fans of its own. 
Who Can Benefit From HIFU Treatment?
HIFU therapy is more suitable for people who may have loose skin and need a skin lift or have some fine wrinkles that need to be softened. HIFU for weight loss is also a procedure that can be applied to almost any area in the body for those who are interested in a little bit of weight loss.
What Age Is HIFU Treatment Suitable For?
HIFU therapy is suitable for almost all people who want to look younger and more beautiful. So, it does not matter what age the person is because this beauty and rejuvenation method is entirely without side effects and has no specific age limit.
However, it is generally recommended that people under the age of 18 refrain from doing it. Also, HIFU treatment may not be the best option for people over 60 because some wrinkles may be too deep.
Steps of HIFU Treatment
Radiation of waves to the deep layers of the skin
Stimulating skin collagen production
Increasing the elasticity of the skin
How Does HIFU Treatment Work?
HIFU therapy should be performed by a specialist. In HIFU treatment, the desired area is first thoroughly cleaned, and anesthesia is applied if necessary. HIFU will then be applied to the skin, and positive skin rejuvenation results will be seen over time.
HIFU therapy is very simple. In this method of skin treatment, a certified therapist uses a device to direct ultrasound waves into the underlying layers of the skin in a controlled manner.
This stimulates the skin layers to produce collagen and continue collagen production for several months. In HIFU treatment, the waves significantly affect the layers of skin that doctors choose to perform a lift on, causing these layers to tighten and become firmer.
Benefits of HIFU Therapy
Relatively long-lasting
Non-aggressive
No anesthesia
Fast procedure
No age limits
No side effects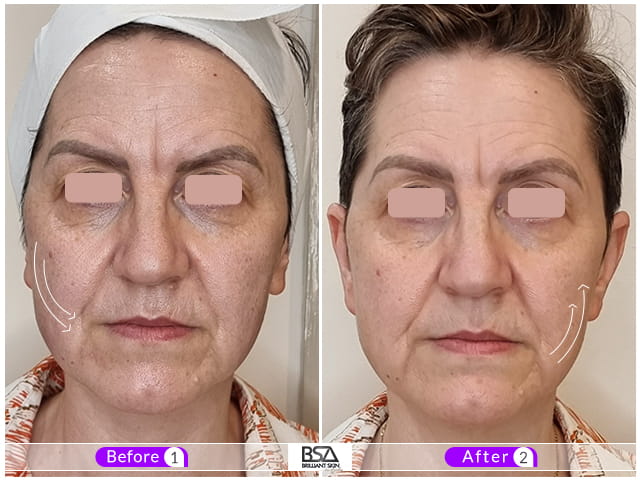 HIFU Treatment Longevity
HIFU treatment can have different results in different people. For some people, the minimum life expectancy of HIFU therapy may be one year, but in some cases, and with proper skincare, this period may be extended to two years.
Possible HIFU Side Effects
In general, every cosmetic and medical procedure may have its own side effects. The main difference between HIFU and Botox is actually in their side effects.
Some of these side effects are common between HIFU and Botox. Still, in any case, you need to make sure that you are aware of the possible side complications before having any therapy or beauty treatment performed.
In general, these side effects do not occur in all people. If you follow your therapist's advice and take good care of the treated area in the post-treatment period, you will definitely suffer very few side effects. Some possible side effects pf HIFU are:
Swelling, bruising and redness in the treated area
Tingling sensation in the treated area
Feeling numb 
Botox
Botox is one of the less invasive treatment and rejuvenation methods available. Botox is made from a toxin called Clostridium botulinum. Botox injections cause weakening or paralysis of some muscles by blocking the nerves. Botox treatment is for people who want to delay their aging process and keep their face looking young and beautiful.
Who Can Benefit From Botox?
Botox is more suitable for people with deeper wrinkles on their face and body or who may want to add volume to certain areas.
Steps of Botox Injection  
Calculate the dose of Botox based on the purpose of the injection
Apply local anesthesia and sterilize the skin
Inject Botox using a syringe
How Does Botox Work?
The steps of Botox injection are simple and a certified therapist can perform this cosmetic process in a few minutes. To do this, first, the area to be injected with Botox needs to be cleaned. The therapist then injects the required volume of Botox into the required areas using special syringes. The results can usually be seen after a week.
Benefits of Botox  
Almost non-invasive
Fast procedure
No anesthesia
Treatment of problems such as migraine headaches, heavy sweating, etc.
Botox Longevity
Naturally is not a permanent treatment and needs to be renewed and re-injected from time to time. This time for different people can vary between 3 to 6 months.
As we age, the injection needs to be renewed at shorter intervals. Because aging reduces skin flexibility and weakens the muscles. Wrinkles also naturally increase with age, so the effects of Botox disappear in a short time.
Possible Botox Side Effects
The difference between HIFU and Botox is not only in the treatment method and how they are done. These two methods also have differences in their side effects. In general, the side effects of Botox are very few and do not always apply to everyone. But in any case, they need to be considered before choosing the treatment.
Some possible side effects of Botox injections are:
Drooping eyelids or eyebrows
Headache
Dizziness
Pain and symptoms similar to the common cold
Muscle weakness
Speech disorder
Respiratory problems
Difficulty swallowing
HIFU or Botox?
When it comes to these two treatments, the question that most people ask is, "Is HIFU therapy better or Botox?" cosmetic procedures such as Botox and HIFU are used to reduce facial wrinkles and rejuvenate the skin and have a common goal.
But each of these skin rejuvenation methods has its own characteristics, pros, and cons, and it is better to make the decision after consulting an experienced therapist. We will compare HIFU and Botox and further explain the benefits of each so that you can make an educated decision.
Each of these methods has its own advantages, and it cannot be said with certainty that HIFU is better or Botox. To choose the proper method for your skin, it is better to visit a reputable skin care clinic and choose the best method under the supervision of a certified and experienced therapist.
Is HIFU a Good Alternative to Botox?  
Botox injections to rejuvenate and eliminate facial wrinkles have been used for many years as the most popular method of skin rejuvenation. Botox injections, like HIFU, have some unique capabilities, such as increasing the freshness and youthfulness of the skin along with increasing the volume and prominence of the target area.
However, given that HIFU is currently the newest skin rejuvenation method and is approved by many treatment organizations, for some people, the question arises as to whether this method is a suitable alternative to Botox injections or not.
HIFU therapy is a new method for lifting and rejuvenating the face, which is done non-invasively and without side effects and does not have many of the risks of Botox, such as damaging the nerves and muscles.
But sometimes, it may not be as effective as Botox in eliminating all the wrinkles in the area, yet HIFU works better with skin lifting and tightening.
Botox has the property of volumizing and eliminating wrinkles in different areas of the body and face, but it may not meet all your needs and expectations for skin rejuvenation.
In such cases, to remove the looseness of the skin, you may benefit from HIFU therapy and be able to lift your skin in a non-invasive way.
Although these two methods have the same goal, sometimes they are not easily replaceable, and it is actually by combining both these methods that you can keep your skin looking amazingly young and prevent it from aging, provided it is all done by a certified therapist at a reputable clinic.
Comparing Botox and HIFU
In order to be able to compare HIFU and Botox injection, it is necessary to refer to the advantages and disadvantages of these two methods, which will definitely help a lot in making the right choice.  
Botox injection is a non-invasive cosmetic procedure that thousands of people worldwide have used and tried.
The advantages of Botox injection method are its low invasiveness, fast results, increased prominence, and wrinkle removal. But in addition to these benefits, Botox injection also has side effects, such as the possibility of allergic reactions, temporary loss of control in target muscles, the possibility of interactions with other drugs, and last but not least, temporary results.
 
How it works
Results & benefits
Cons & side effects
HIFU

1. Ultrasound waves enter the underlying layers of the skin in a concentrated way

2. Stimulation of collagen-producing cells and elasticity and contraction of collagen fibers

1. Facial skin lift

2. Refreshing and rejuvenating skin

3. Preventing skin tissue degeneration

4. No need to inject anesthetics

5. Has relatively permanent results

6. See results after about three months

1. Redness and swelling of the skin to a small extent up to a few days after HIFU therapy

Botox

1. Injection of bacterial toxin with a specific dose

2. Paralysis of the muscles that cause the wrinkles 

1. Elimination of skin wrinkles

2. Refreshing and rejuvenating the skin

3. Raising or smoothing the eyebrows

5. The results are seen quickly

4. Therapeutic purposes such as reducing skin transpiration and treating headaches 

1. Temporary results between 3 to 7 months

2. Need to renew and re-inject

3. Swelling and inflammation for a few days after injection
The Right Choice Between HIFU and Botox
Of course, the only person who can make the right decision between HIFU and Botox injections is the applicant and their therapist.
It is true that these two methods have many similarities, but having some distinctive features has caused the choice of either of these two methods to vary depending on the purpose of the person.  
Some people may just want to get rid of very fine wrinkles and loose skin on their faces. For this group of people, it is usually suggested that choosing HIFU over Botox injections is a smarter and better choice.
But for some people who like to get rid of deeper facial wrinkles along with adding some volume, for example, on the cheeks, choosing Botox injections is right. Also, a Botox injection can be a perfect choice for people who have a thin and bony face and do not feel comfortable with it.
In general, for people who intend to have one of the above two methods performed, it is recommended that they thoroughly study the advantages and disadvantages of the two methods of HIFU and Botox injections so that they can make the right and smart choice according to their desires and conditions.
Botox After HIFU Therapy
Some people have wrinkles in addition to loose skin. For these people, a combination of HIFU therapy and Botox works best. HIFU therapy lifts the skin and tightens it, and is partially effective in treating fine wrinkles.
But people with deeper wrinkles can get Botox injections shortly after HIFU therapy and get rid of these wrinkles completely. These two methods can be performed together and in combination under the supervision of a certified therapist.
Final Word
Advances in science and technology have led to the emergence of various methods in the fields of beauty and skin rejuvenation. Among the most effective and efficient of these methods are Botox injections and HIFU treatment.
But this plethora of choices has caused some confusion in choosing the proper treatment method for some people. Whether HIFU is better or Botox is a matter that should be determined depending on the patient's conditions and the expectations they have of performing each of these methods.
In addition, there are also people who can enjoy the full benefits of both HIFU and Botox at the same time.