How to Make Easy Homemade Face Masks for All Skin Types
Updated

July 13, 2022

by Brilliant Skin Australia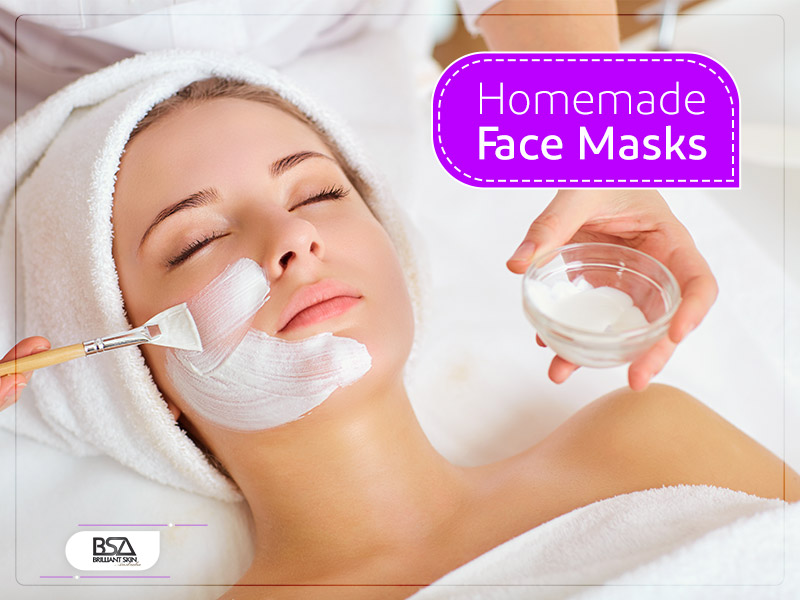 Making a homemade face mask and relaxing with it after a busy day can be a very attractive option. Homemade face masks are completely natural and very useful for removing skin problems, minimizing open pores and skin dryness. To make a suitable face mask, you should prepare once paying attention to your skin type and skin problems.
In this article, we are going to introduce several types of homemade face masks suitable for oily, dry, and acne-prone skin, and teach you how to prepare the best homemade masks to eliminate skin pores, have a facelift, or lighten your skin.
Homemade Facial Masks - Tips
To prepare a natural mask, be sure to pay attention to the expiration date and the state of the food or fruit you intend to use for making a homemade mask. Unfortunately, some people do not pay enough attention to this point and use ingredients that cannot be eaten to make masks. Your goal in preparing the mask is transparency, beauty and solving skin problems. So, to achieve this result, you must use the best products and ingredients.
Be sure to do a patch test before putting the mask on the whole face. To perform this test, you need to test a small amount of the mask on a small area of ​​the body, for example, the arm. You may be allergic to any of the natural ingredients in the mask, and its use may cause skin irritation and redness.
Try to use the mask on the same day you made it. The nutrients in the mask are lost very quickly when exposed to air and bacteria. Make a face mask with fresh ingredients and use it within an hour.
How to Make Homemade Face Masks
Making a facial mask at home is much easier than you think. You can make the best face masks with many foods and fruits readily available in the fridge. It is only necessary to know your skin type and prepare the proper mask based on your specific skin problems.
Types of Face masks
If you plan to include the use of face masks in your daily routine, there are two ways ahead of you. The first one is to buy a face mask. There are various face masks suitable for various skin types. You can buy moisturizing, anti-allergenic, brightening, anti-wrinkle or cooling masks based on your specific needs.
But if you are looking for a natural face mask, homemade masks are very effective while being simple and convenient. You can easily prepare the best face mask with all kinds of food and fruit available at home. For this purpose, in this article, we intend to go through several types of homemade face masks needing minimal raw material to make.
Hydrating Homemade Face Mask
People with dry skin sometimes do not get results using different moisturizers. These people need to use a hydrating facial mask. One effective type of hydrating mask is a combination of aloe vera gel and cucumber. To prepare this mask, mix 2 tablespoons of aloe vera gel with half a cucumber. Gently massage the obtained paste on the face. After 30 minutes you can wash your face.
Honey is also a great moisturizer and hydrates the skin without feeling greasy. Using honey masks is useful for dry skin. If you massage honey on the damaged parts of the face, such as scars, the scars will fade and tissue regeneration will increase.
Oily Skin Homemade Face Mask
To get rid of oily skin in a natural way, you should use substances that control the production of fat. One of the best options is avocado. Avocado intelligently controls the level of oiliness in the skin. This fruit is rich in oleic acid and helps reduce inflammation. To prepare a homemade mask, you should mix half an avocado with a quarter of a cucumber. Then put this mixture on the skin. This mask is super cooling and creates a feeling of freshness in the skin.
If you are looking for an easier face mask for oily skin, here is another recipe. Bananas can help absorb oil from the skin. Using a banana, 10 drops of lemon juice and a teaspoon of olive oil, you can make a good mask for oily skin. Mash the banana in a bowl. Add lemon juice and olive oil to make a paste. Put the face mask on the skin for 15 minutes and then wash it with warm water.
Cleansing Facial Mask
If you are exposed to a polluted environment, using a cleansing facial mask is very important. One of the most effective skin cleansing masks is the combination of almonds and olive oil. To prepare this mask, you need to grind a handful of almonds and add 2 tablespoons of olive oil to it.
The fatty acid in almonds penetrates the skin and makes the skin softer. Vitamin E in olive oil also removes dullness, dehydration and fine lines. Place this homemade mask on the skin for 20 minutes and massage a little before washing. By massaging, pollution, make-up, dead cells and fat are removed.
Brightening Face Mask
If you feel that the radiance of your face has disappeared, using a homemade and natural mask can be effective in solving the problem. The combination of honey and turmeric is an anti-inflammatory compound that brightens the skin. Mix a teaspoon of turmeric with a tablespoon of honey. Put the mixture on the face and wait for 15 to 20 minutes. Then wash the face with lukewarm water and use a moisturizer.
Facial mask for Brown Spots
One of the most effective ingredients for removing facial skin problems is tea tree oil. A combination of tea tree oil, pumpkin and honey can be used to prepare a face mask suitable for removing many problems. First, you have to puree the pumpkin in a food processor. Then added a tablespoon of honey and 2 drops of tea tree oil.
Pumpkin increases the rate of collagen formation and honey helps lighten up the skin. You can use this homemade mask once a week to have bright and even skin.
Face Mask for Acne
Acne is one of the most common skin problems. As the pores of the skin are closed by fat, dead skin cells and bacteria collect under the skin and acne develops. Acne can include blackheads, whiteheads, nodules, or cysts. The protein in the egg white destroys the bacteria on the skin to some extent and prevents a host of skin problems.
To prepare this homemade mask, you need to take 2-3 eggs and separate the whites from the yolk. Put the egg white in a bowl and apply it to your face using a cotton swab. The face mask should be left on the skin for 10 to 15 minutes. Then wash your face and finally, use a moisturizer.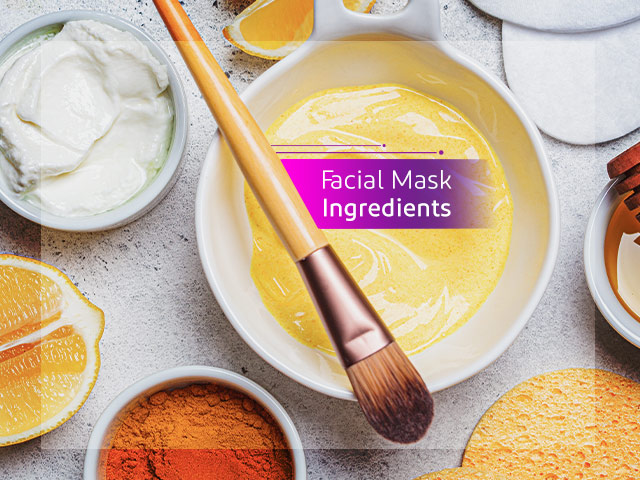 For people who are looking to get rid of acne during puberty, a combination of honey, turmeric and sea salt is advised. To prepare this homemade mask, you need to mix a tablespoon of honey, a teaspoon of turmeric and half a teaspoon of sea salt. This homemade mask has healing properties.
Natural honey, especially Manuka honey, attracts bacteria. In addition to brightening the skin, turmeric is an anti-inflammatory and antibacterial agent. Sea salt helps to clean, reduce inflammation and remove the infection. For this reason, the combination of these three substances has a very good effect on eliminating pimples and puberty acne. Use a clean brush to use this face mask. After 10 to 15 minutes, wash your face with warm water.
Read more: Acne, Different Types of Treatments
Eye Mask
One of the best ingredients to remove darkness and wrinkles around the eyes is green tea. Green tea contains polyphenols. The antioxidants in green tea protect the skin from damage and signs of aging. To prepare an eye mask, soak two cotton balls in very strong tea. Put the cotton balls in the refrigerator and then put them under the eyes.
Mask for Blackheads
Charcoal masks have been very popular for some time now. These types of masks are considered the best and fastest way to get rid of blackheads. Activated charcoal detoxifies and helps open skin pores. In addition to eliminating blackheads, it also reduces skin fat.
To prepare a charcoal mask at home, you need to combine a teaspoon of flavourless gelatin and half a tablespoon of activated charcoal. Then add some warm water and make a thick paste. Add a few drops of tea tree oil and then place the mask on the face. After 25 minutes, the mask is completely dry and you can remove it.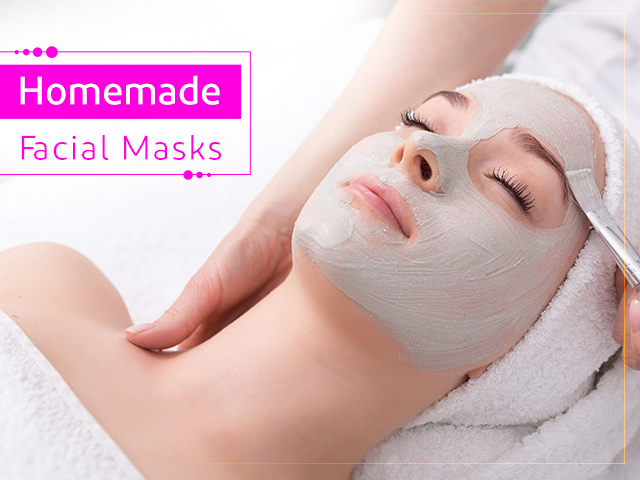 Scrub Face Mask
The scrub facial mask should contain exfoliating agents to remove dead skin cells. One of the best natural exfoliators is sugar. A combination of sugar, cucumber, milk and honey can be used to prepare a peeling or scrubbing mask. Mix half of a cucumber with a quarter cup of milk, a tablespoon of honey and a tablespoon of sugar.
Facelift Mask
Regular treatment can be effective in removing fine lines and wrinkles. Using a skin-firming mask is one of the best ways to get rid of wrinkles. To prepare a face lifting mask, you can use a combination of avocado, honey and cocoa powder. Avocado and cocoa powder stimulates collagen production in the skin. Honey is suitable for moisturizing and softening the skin.
Mix 2 avocados with a tablespoon of honey and 2 tablespoons of cocoa powder. First, mash the avocado in a container, then add cocoa powder and honey to it. Gently massage the mask on the face. After 20 minutes, wash your face with warm water.
Facial Mask for Open Pores
If you are looking for natural and uncomplicated methods to take care of open pores, making a homemade mask is a very good option. A mask for removing open pores can easily be made from a combination of egg white, honey and lemon juice. To prepare the face mask, combine an egg white, a tablespoon of honey and a little lemon juice.
Egg white and lemon juice have astringent properties and make the skin firm. Adding honey to this composition increases the moisture content of the skin.
Final Word
Considering the fact that buying facial masks can sometimes be expensive and that some of the chemicals used in these solutions can in the long run damage the skin, learning to make and use homemade face masks sounds like a very interesting option to many who are after taking care of their skin in the safest and most natural way.